Some of the mighty will fall, some you will love. Grieve, but let not your heart be troubled.  (From December 2017 word for 2018)
2 Samuel 1:25 "How the mighty have fallen in the midst of the battle!
Jonathan was slain in your high places.
vs 26 I am distressed for you, my brother Jonathan;
You have been very pleasant to me;
Your love to me was wonderful,
Surpassing the love of women.
The document below is the order to unseal the contents on Anthony Weiner's laptop. He is  former NY Congressman who was arrested for "sexting" with a woman on Twitter and pled guilty to another sexual charge last year; sexting with a minor.  He was sentenced for 21 months in prison beginning November 2017.
When his laptop was seized by NY police officers, what they found was enough to make grown men cry,  vomit and need professional counseling afterwards.  Huma Abedin, his wife and Hillary Clinton's closest aide, had been sending him emails; many were classified and others were pure evil.  There is a lot on the web about what those might be but I'm not wanting to make that point here today.    

David and Jonathan were best friends.  Scripture says he found no greater love and companionship from a woman.  It was a pure relationship.  But Jonathan, being Saul's son, died with Saul and David grieved hard.
"Jonathan was slain in your high places!"
It is being reported by insiders at the WH that the contents of this laptop is going to put people away for a very long time.  Pedophilia, human trafficking, drug trafficking, money laundering, murder etc, will all be exposed.   We have been praying for exposure and justice right?
Yes!  But what happens to the innocent who are caught up in this just by being connected in some way?  Exposure of the video will slay those in high places, and will bring the mighty down; politicians, celebrities, pastors and other religious leaders, doctors, lawyers, Supreme Court Justices, high ranking government officials.  What about those who serve under them?  How about those in their congregations?  How about their families?  Some of those people we love too.

On May 15, President Trump honored slain NY police officers, killed in the line of duty.  One of those officers was Detective Miosotis Familia, slain July 5, 2017.  Q suggested that she was one of the officers who viewed the video and handed it off to a higher ranking official.  She was an "innocent" attached to this video, called "The insurance file."  She was "familia" or "family."  (prophetic?)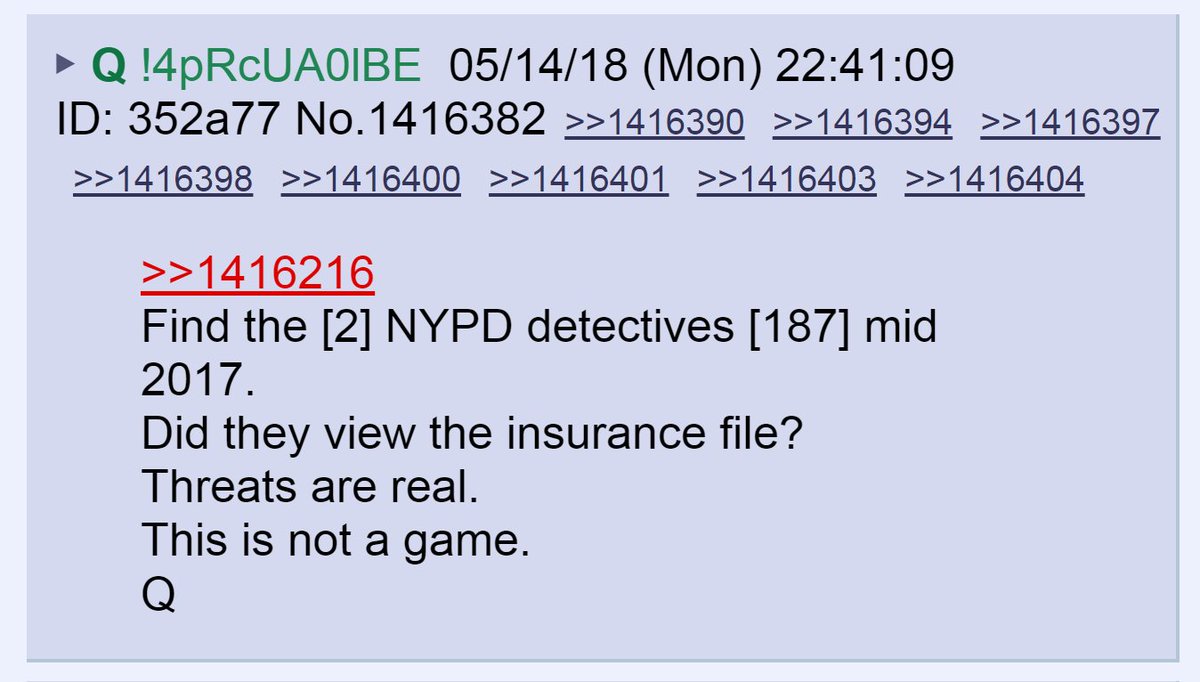 Justice is a double-edged sword.  People we love who have either done wrong or have been involved in some way with those who have done wrong, will have careers ended, homes broken, or worse.  Justice is here but there is a price for that justice. Our men and women in blue, our whistle-blowers, many undercover reporters put their lives on the line and have died for this freedom.
Brace yourselves for many mixed emotions and do as David did.   Grieve first for the innocent who lost their lives.  Then get up and prepare to take your place in the kingdom.  Get ready!
"Time is up for those who are corrupt!"  Mark Taylor, author of "The Trump Prophecies"