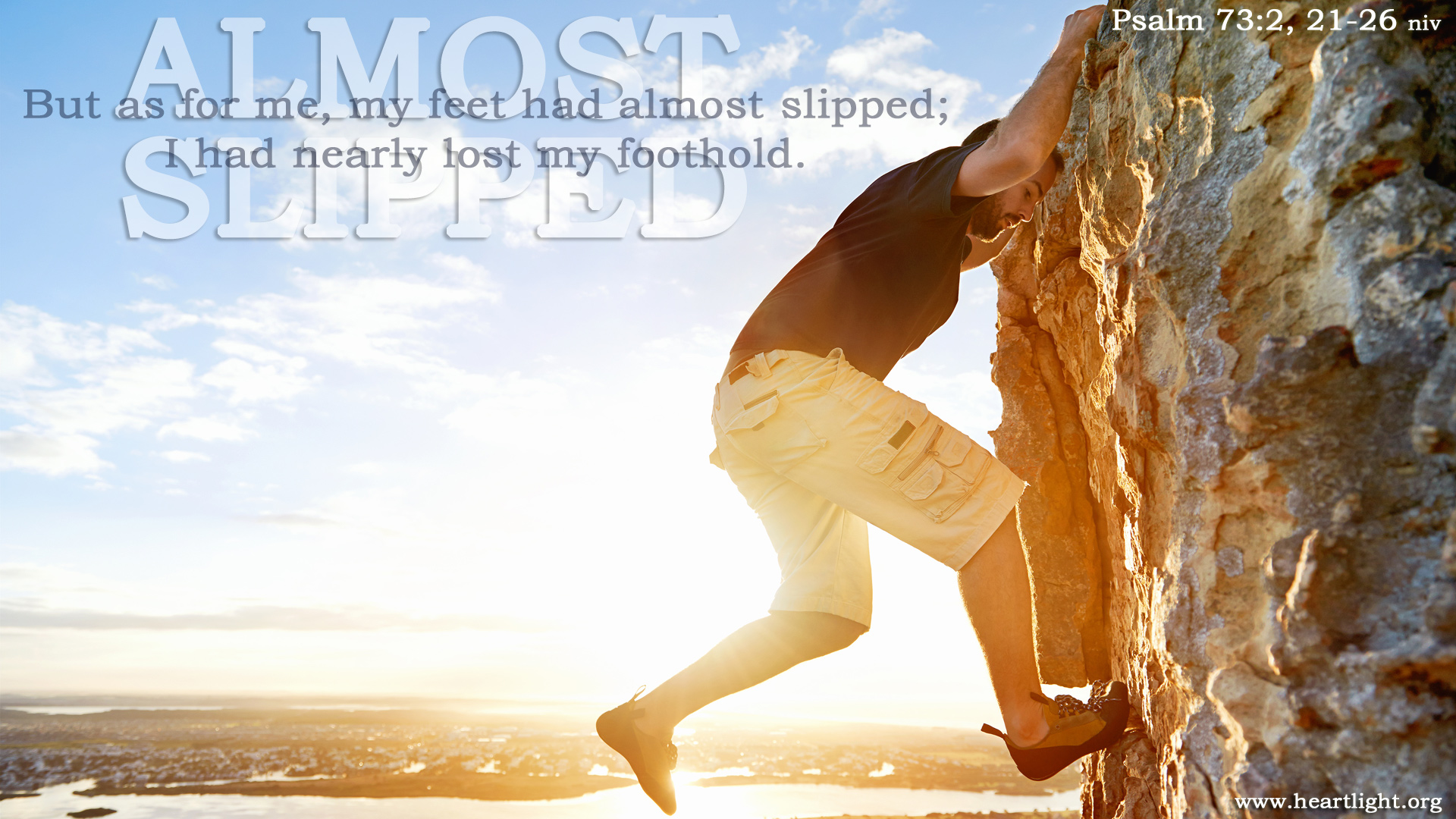 A woman came into the store where I work a few weeks back, wanting to share with me a word of thanks for talking with her about her mother's health. I asked her if what I had shared with her helped and she said in some ways, but it was more my spirit she was drawn to.

I thanked her for coming back into the store to tell me this. It was her only reason to come. I then added that some people only come back to share the complaint.

Now that all seemed innocent, right?

She then asked me if she could talk to me privately. Thinking that she had a personal issue to share, maybe get help with a supplement since this is my job, she started to share with me advice from a seer that helps turn unintended darts away. It was good advice but this customer's emphasis was on the woman being a seer, and not as much the word given.

I get a bit edgy when someone wants to give me an unsolicited word by a prophet or seer because I believe that if it is God-breathed, the message will stand on its own. An emphasis on the messenger is often a spirit of divination, which is a diversion intended to turn the focus away from the true God.

This woman was well-intentioned, so I told her I was a seer too in the hopes of down-playing her focus on this person, but I should have just told her it didn't matter what the woman's title was, or who it was. What mattered was the message.

This is not a small matter.

The conversation took a quick turn, and I opened the door for that. The woman then asked "Oh? What do you see?" I was taken aback by that because I wasn't seeing anything in the moment yet I told her what I had seen recently – but it wasn't relevant to her. My comments shifted with her direction.

It didn't resonate with her spirit. In fact, not at all. So I tried to explain it better. That made it worse. I started to feel as if I couldn't breathe. There was no life in the conversation. Quite awkward.

A spirit of divination was at work here. The Greek word for Divination is python.

All seemed innocent until she put emphasis on the fact that the woman was a seer, and instead of just telling her right at that moment, that the emphasis on a messenger should not be important at all, I identified with the giver of the word. My thoughts were to downplay the emphasis but when I went home to unpack what happened in the spirit, I saw a secret fault of my own.

Instead of just thanking her for that word and moving on, I elevated myself with the seer, in order to downplay the role of this seer's significance in the woman's mind.

That is not scriptural. The Lord gives us a picture of how to handle the spirit of divination in Acts 16:16.

vs 16 Now it happened, as we went to prayer, that a certain slave girl possessed with a spirit of divination met us, who brought her masters much profit by fortune-telling.

vs 17 This girl followed Paul and us, and cried out, saying, "These men are the servants of the Most High God, who proclaim to us the way of salvation."

vs 18 And this she did for many days. But Paul, greatly annoyed, turned and said to the spirit, "I command you in the name of Jesus Christ to come out of her." And he came out that very hour.

Divination means to use supernatural knowledge of truth given by a source other than Holy Spirit, with the intent to divert the attention away from the Source of Truth. This is why even though the woman in Acts 16 spoke truth, Paul and Silas rebuked her.

Previous to Paul and Silas coming into her town, she used her seer influence to make money for Simon the Sorcerer. As she spoke the truth, calling out to the people that these are men of the most High God – the spirit in her knew that after these men left, the people would come back to her, and pay her for more supernatural information.

I sat here meditating on this word. Did the spirit of divination just enter my conversation with the woman once she put emphasis on the seer?

No. It came into the picture at the counter where I stood. The woman first came to thank me. Thank me for what? For helping her mother? No, I didn't really do that. She came to thank me for my spirit.

THAT FLATTERED ME. It was ME who put emphasis on the messenger of ME! It was my own response that opened this door and I didn't see it.

There is nothing wrong with someone being thankful to another for their spirit, but I should have just thanked her for wanting to come back to let me know she was blessed and give all glory to God, not adding more to the conversation. My adding more, allowed her to ask if she could speak to me privately away from my coworker who I was working with at the time. That was a diversion right there. A diversion away from what I was doing.

This morning, I was reading in Psalm 26.

vs 1 Vindicate me, O Lord,
For I have walked in my integrity.
I have also trusted in the Lord;
I shall not slip.

vs 2  Examine me, O Lord, and prove me;
Try my mind and my heart.

vs 3 For Your lovingkindness is before my eyes,
And I have walked in Your truth.

vs 4 I have not sat with idolatrous mortals,

I sensed Him calling me to stop here. As I sat meditating on this, I'm struck by verse 2: Examine me, O Lord and prove me (test me). Try my mind and my heart.

I asked Him to do this; to examine my heart.

I walked in MY INTEGRITY; what I consider to be good and upright, also trusting in the Lord. This is not evil, though it is a secret fault, a hidden flaw that needs to be revealed and brought to Him.

The trap for anyone with a revelatory or power gift is to elevate ourselves, even secretly. It is pride. And pride opens the door to counterfeit spirits. The authority to deliver that message is removed yet we keep trying to deliver it to those who don't need it.

This is NO SMALL MATTER. WE MUST ASK THE LORD DAILY TO EXAMINE OUR HEARTS TO SEE IF THERE IS ANYTHING THERE THAT DISTRACTS FROM THE PERSON OF CHRIST AND HIS MISSION.

Especially in the times we are in. The Lord is bringing swift judgment to His house. We do not want to gathered up with the enemies of the Lord when He comes. All my good intentions will not save me. My own integrity will not save me. My good thoughts toward Him will not keep me from being gathered up with the wicked when judgment comes.

Only as my eyes are fixed on His lovingkindness and walking in the knowledge of Him, the SOURCE OF ALL TRUTH, will my foot keep from slipping.



Psalm 26: 1 Vindicate me, O Lord,
For I have walked in my integrity.
I have also trusted in the Lord;
I shall not slip.
2 Examine me, O Lord, and prove me;
Try my mind and my heart.
3 For Your lovingkindness is before my eyes,
And I have walked in Your truth.
4 I have not sat with idolatrous mortals,
Nor will I go in with hypocrites.
5 I have hated the assembly of evildoers,
And will not sit with the wicked.
6 I will wash my hands in innocence;
So I will go about Your altar, O Lord,
7 That I may proclaim with the voice of thanksgiving,
And tell of all Your wondrous works.
8 Lord, I have loved the habitation of Your house,
And the place where Your glory dwells.
9 Do not gather my soul with sinners,
Nor my life with bloodthirsty men,
10 In whose hands is a sinister scheme,
And whose right hand is full of bribes.
11 But as for me, I will walk in my integrity;
Redeem me and be merciful to me.
12 My foot stands in an even place;
In the congregations I will bless the Lord.